Around The Herd | Recorded Live 4.6.2023
Welcome to Around The Herd with Bison Venture Partners where we're educating 10,000 new Angel Investors over the next decade in our mission to build generational wealth with our community. Why? Because investing in privately-held businesses has historically been a proven wealth-building strategy for elites, but the rules have changed, and it's never been easier for everyday people to do the same. If we're going to close the racial & wealth gaps that exist today, we must leverage innovative opportunities to do so. Be sure to subscribe to our newsletter and podcast at www.bv.partners and follow us @bisonvp on social media to stay up to date and be in-the-know about other exciting opportunities.
Today, we're discussing an equity crowdfunding investment opportunity in Substack, which is currently fundraising on Wefunder! Before we get into that, here's a quick message from our sponsor, BVP Coffee Co.
---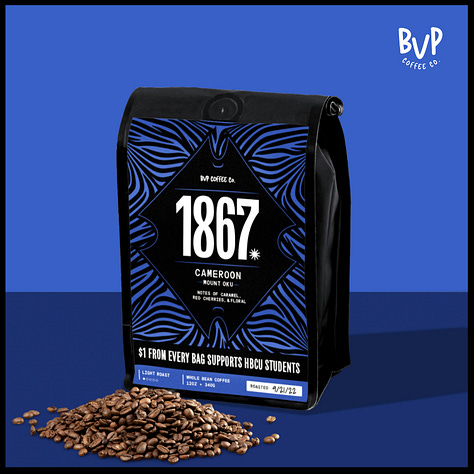 BVP Coffee Co. provides single origin coffee and unique blends from all around the world. We bring communities together through stories of global travel, entrepreneurship, and collaboration. Our latest product, "1867," is an ode to the rich & illustrious legacies of two of the world's leading educational institutions, Howard University & Morehouse College—both established in the year 1867. Each bag celebrates the collaboration of servant leaders devoted to uplifting their communities through entrepreneurship. In our mission to invest in the next generation, we donate $1 from each bag sold to support business students attending Historically Black Colleges & Universities. Visit www.bvp.coffee and help us raise $1M in scholarships for HBCU entrepreneurs. Be sure to use our discount code "BVPHERD" for free shipping!
---
Disclaimer
Please read this investment disclaimer carefully before considering any investment discussed in this newsletter or any other material provided by Bison Venture Partners.
The information and opinions presented in this newsletter are for educational and informational purposes only and should not be construed as investment advice, an offer to sell, or a solicitation of an offer to buy any securities or financial products. The opinions expressed in this newsletter are those of the authors and do not necessarily represent the opinions of Bison Venture Partners.
Investing in securities, including private companies and crowdfunding opportunities, involves significant risks, including the potential loss of the entire investment amount. Investments should only be made by investors who are financially able and willing to bear these risks. The information provided in this newsletter is not intended to be a comprehensive analysis of any investment opportunity, and investors should conduct their own due diligence before making any investment decisions.
Past performance is not indicative of future results, and there can be no assurance that any investment will achieve its objectives or that any projections, estimates, or forward-looking statements will be realized. The value of investments can go down as well as up, and investors may not get back the full amount invested.
Bison Venture Partners is not a registered investment advisor, broker-dealer, or crowdfunding portal. We do not provide personalized investment advice, and we are not responsible for the investment decisions made by our readers or subscribers. It is the responsibility of each individual investor to consider their investment objectives, risk tolerance, and financial situation before making any investment decision.
Any investment mentioned in this newsletter may not be suitable for all investors, and we strongly encourage you to consult with a professional financial advisor, attorney, or tax advisor before making any investment decision. By accessing the information provided in this newsletter or any other material provided by Bison Venture Partners, you agree to be bound by the terms and conditions set forth in this investment disclaimer and release Bison Venture Partners, its affiliates, and their respective directors, officers, employees, and agents from any and all liability arising from your use of this newsletter and any investment decisions you make based on the information provided.
---
Investment Memo | Substack on Wefunder
Substack is an online platform that allows writers and creators to publish and monetize their content through paid email newsletters. It was founded in 2017 by Chris Best, Jairaj Sethi, and Hamish McKenzie. The platform enables writers to build their audience, distribute their work, and generate income from subscriptions.
Substack is popular among journalists, bloggers, and subject matter experts who want to create an independent income stream without relying on traditional media outlets, advertising, or sponsored content. The platform handles various aspects of content creation, such as hosting, email delivery, and payment processing, allowing writers to focus on creating high-quality content for their subscribers.
Substack's model allows creators to offer both free and paid content, making it accessible to a broader audience. Free content helps attract new subscribers, while premium content is reserved for paying subscribers. The platform has gained significant traction over the past few years, attracting well-known writers and journalists and a growing number of subscribers.